PRIMATES Conference
Annual Meetings of Primates Studies, Hosted by JMC
The 60th PRIMATES Conference
https://sites.google.com/site/primatesmeeting60/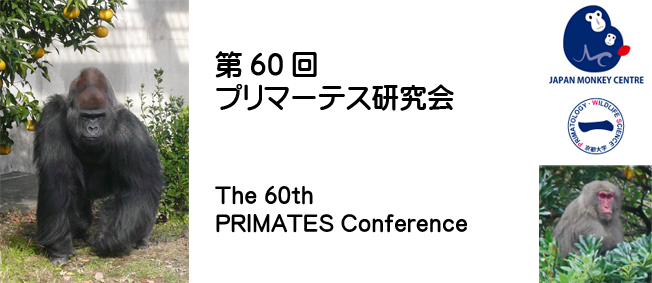 ---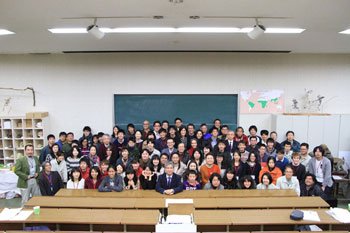 Date
: January 30
th
- 31
st
, 2016
Venue
: Visitor Center and Seminar House Hakutei@ Japan Monkey Centre
Award Winners
The Best Oral Presentation Grand Prize
Masaya Yamada
The Best Poster Presentation Grand Prize
Kazuya Toda
The Best Oral Presentation Award
Tomoko Sakai
Munehiro Okamoto
Nanzan Girls' Junior & Senior High School
The Best Poster Presentation Award
Taiki Okumura
Jie Gao
Kodzue Kinoshita
The 59th Annual Meeting of Primates Studies
https://sites.google.com/site/primateskenkyukai59/
Thank you for joining us at the 59th Annual Meeting of Primates Studies!
The announcement of the award winners of the 59th PRIMATES Conference.
The 59th annual conference was held in JMC in Janauary 31st and February 1st in 2015. There were 108 participants in total. There were 64 presentations (30 orals and 34 posters), We are pleased to announce the award winners as follows:
The Best Oral Presentation Grand Prize
Keiko Tsubokawa

The Best Poster Presentation Grand Prize
Hikaru Wakamori

The Best Oral Presentation Award
Takashi Hayakawa
Momoe Hirokawa
Lira Yu

The Best Poster Presentation Award
Satomi Ito
Akemi Hirakuri
Naoto Kimura

https://sites.google.com/site/primateskenkyukai59/home/award

The following is the evaluation panel for the award:
Tetsuro Matsuzawa, Chair,JMC General Director
Gen'ichi Idani, Vice-chair, JMC Zoo Director
Tomo Takano, member, Chief Curator
Rie Akami, member, Deputy-Chief Curator
Yuta Shintaku, member, Curator
Koshiro Watanuki, member, Curator
---
We would like to invite you to the 59th annual meeting of Primates Studies hosted by Japan Monkey Centre (JMC). The annual meeting of Primates Studies has been in symposium-style with a specific theme since the 30th annual meeting in 1985, at the time of the birth of Primate Society of Japan. From April 2014, Japan Monkey Centre (JMC) became a 'Public Interest Incorporated Foundation'. To mark our new endeavor, we would like to go back to the original and hold this year's annual meeting in conference-style.

The main missions of Japan Monkey Centre (JMC) are to promote research, conservation, environmental education on nonhuman primates as well as zoo installation in the light of animal welfare. This year's annual meeting will offer a forum for cross-disciplinary discussion by having speakers from the various fields including primatology, conservation biology, wildlife biology, museology, and zoo science .

The annual meeting welcomes your attendance, with/without presentation. We are looking forward to presentations related to research, education, conservation and welfare in primatology.
Date
Saturday January 31st (10:00AM) - Sunday February 1st, 2015
A get-together party is scheduled on Saturday evening
---
Venue
Visitor Center and Seminar House @ Japan Monkey Centre (JMC)
---
Program
Presentation styles
1. Oral: 15 minutes talk (12 minutes presentation + 3 minutes questions & answers)
2. Poster: Core time will be assigned on Saturday evening.
The presentations can be given in either Japanese or English. Please download the form (Word file) to submit the abstract
---
Eligibility for participation
The participant must be a member of "Tomo-no-kai membership". For those who are not, please visit the website to apply for membership.
How to register
To give a presentation, please register from here and submit the abstract. To participate (no presentation), please register from here . You can register by telephone or fax. Please check 'Contact' below.
---
Deadline
The deadline for pre-registration has passed.
Registration for presentation:
Wednesday January 7th, 2015
Registration without presentation/Application for membership:
Saturday January 24th, 2015
Fees
Participation fee: 500 yen
Get-together party fee:
3,000 yen (2,000 yen for students)
Free
Please pay the fees in cash at the registration desk in the venue.
---
Contact
Organizer of annual meeting of Primates Studies
Japam Monkey Centre (JMC)
Kanrin 26 Inuyama Aichi Japan 484-0081
TEL: 0568-61-2327
FAX: 0568-62-6823
Email:
Contact personnel: Yuta Shintaku
Organizer: Japan Monkey Centre (JMC)
Co-organizer:
Leading Graduate Program in Primatology and Wildlife Science, Kyoto University