SAGA 20
SAGA (Support for African/Asian Great Apes) is a non-profit consortium founded in 1998 by scientists specialising in great apes, zoo staff, and other experts.
SAGA was founded with three main goals: 1) to conserve the natural habitat of wild great apes; 2) to enrich the lives of those in captivity, and; 3) to bring an end to the use of great apes as subjects in invasive studies. SAGA holds an annual symposium within Japan. Having achieved the third founding goal: great apes are no longer used as subjects in invasive studies within Japan, SAGA continues to expand its vision and remit. At recent symposiums, SAGA has additionally focused on promoting awareness of good welfare practice, in order to enrich the quality of the lives of the animals with whom we share the planet. The Japan Monkey Centre is the proud host of the 20th SAGA symposium which will be held on November 04-05, 2017. This is an event you won't want to miss. The JMC looks forward to welcoming you all to SAGA20.
The 61st Primates Conference
Annual Conference of Primates Studies, Hosted by JMC
Thank you very much for joining to the 61st Primates Conference that was held in Janauary 28-29, 2017. We are pleased to announce the award winners as follows:
The Best Oral Presentation Grand Prize
Sota Inoue (Wildlife Research Center, Kyoto University)
The Best Poster Presentation Grand Prize
Shintaro Ishizuka (Primate Research Institute, Kyoto University)
The Best Oral Presentation Award
Takeaki Honda (Primate Research Institute, Kyoto University)
Akihiro Itoigawa (Primate Research Institute, Kyoto University)
Tamayo Tomoda and Fumi Sumida (Kansai Okura Senior High School)
The Best Poster Presentation Award
Rafaela S. C. Takeshita (Primate Research Institute, Kyoto University)
Mari Hirosawa (Japan Monkey Centre / Wildlife Research Center, Kyoto University)
Primates Conference Special Award
Tomonori Hoshino (Japan Monkey Centre)
Read More
January 2017
Re-socialization challenge for an adult female chimpanzee Marilyn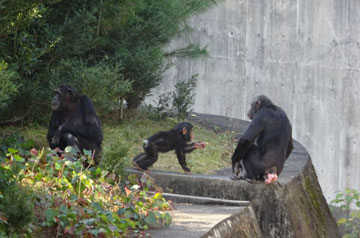 From left: Maruko, Mamoru, and Marilyn. Mamoru seems to want to play with Marilyn.
A female chimpanzee called Marilyn, then 22 years old (estimated), was transferred to the Japan Monkey Centre (JMC) in autumn 2011. She was born in a zoo overseas and relocated at a young age to another zoo, which was using chimpanzees in entertainment shows for the public. She grew up, spent her formative years, at this zoo. When she arrived at the JMC, she didn't possess the social skills required to 'be a chimpanzee among other chimpanzees'. For example, she did not know how to greet her group-mates, or how to interact with them properly. Repeated injuries obliged the JMC to suspend Marilyn's group social life temporarily in order to ensure her health and safety.
However, it is vital for chimpanzees, as very social beings, to be given the opportunity and encouraged to interact socially with other chimpanzees. The JMC staff did not give up hope of being able to provide the social life that every chimpanzee deserves. This is especially important because chimpanzees are very intelligent and have a life expectancy of over 50 years in a captive environment.
A year and a half has passed since the JMC started the re-socialization challenge. Thanks to the devoted efforts of our highly skilled staff, Marilyn has made forward progress gradually, step-by-step. Marilyn now sometimes gives friendly gestures towards her group mates, especially to Marco and Mamoru (Mamoru is Marco's son, born in 2014). They have got used to spending time together, a little bit at a time. Mamoru sometimes invites Marilyn to play with her, though Marilyn still tends to hold back. Marilyn and Mamoru sometimes play together in front of Marco. Yesterday evening, we had some good news: a JMC staff-member saw Marco and Marilyn make eye contact, looking into each other's eyes and grooming each other. Marco has previously been observed to groom Marilyn. However, this was the very first time that we have been able to confirm that Marilyn groomed Marco in return! The JMC continues to be committed to encouragibng social interaction among all JMC chimpanzees.
October 29, 2016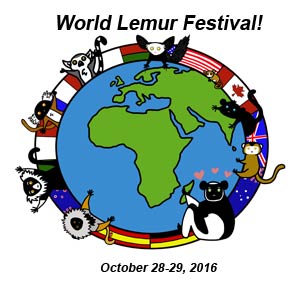 World lemur festival has started in Madagascar in 2014, and ever since it has cerebrated each year all around the world. It takes place the last week of October every year for one week. People can learn and come to like the lemurs even more through the workshop and other events. Japan Monkey Centre support this idea, and this year we are going to have our own World lemur festival at Japan Monkey Centre. ... (Continue reading)
September 08, 2016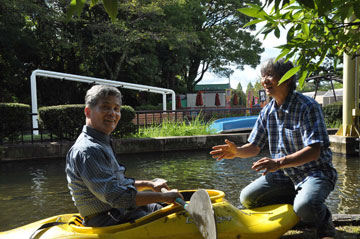 Exclusive Guided Tour by and for Mountain Enthusiasts
Prof. Tetsuro Matsuzawa gave an exclusive tour to an honored guest: Mr. Isamu Tatsuno, the founder of Montbell and one of the most famous Japanese climbers of all time. The tour included the Primate Research Institute (PRI) and the Japan Monkey Centre (JMC). After observing chimpanzees carrying out a computer-based cognitive task at PRI, they had the pleasure of paddling a kayak whilst watching squirrel monkeys moving about in the trees overhanging the water. ... (Continue reading)
Summer Camp for Children
We hold an annual two-day summer camp for children, thanks to a fruitful collaboration with "Uny" a company that operates a chain of supermarkets in Japan. This summer, children from 10 to 12 years old, who applied to join this popular camp, underwent a screening process. They were required to submit an illustration and essay on the subject "my favorite living creature." We carefully assessed their artwork and essay to choose who we would invite the Japan Monkey Centre. We invited a total of 24 children, who came unaccompanied by their parents, spent two whole days with the JMC staff, staying overnight in between. The children observed the JMC nonhuman primates and deepened their knowledge of them, with the assistance of the knowledgeable JMC staff. They were treated toed a 'behind the scenes' tour with our zoo caretakers and had a chance to experience working as zoo caretakers (preparing meals for the non-human primates). They also made their own meal for their dinner by themselves. They first knapped a stone and, in this way, made a stone tool. They even cut up meat for a curry using this handcrafted stone tool. They also experienced several special events at the zoo after closing-time. On the second day, they invented new enrichment devices based on their observation fo the primates' behavior earlier that day. For example, they made a bamboo swing for the chimpanzees. We hope their unique experiences at the summer camp will inspire them to takea ction to conserve these precious non-human primates.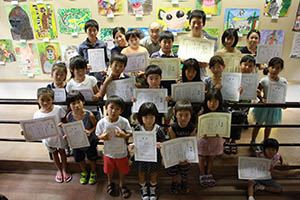 We held an art competition for children to create pictures of JMC nonhuman primates. The awards ceremony took place today. The award winners described to us very vividly the primates they had chosen to draw. We knew that it would be an enjoyable and fun experience for the children to watch the animals. The winning artwork is exhibited at the Africa Center. Please take a look at the children's dynamic paintings.
April 20, 2016
The whole of the JMC was reserved for younsters today!
We welcomed hundreds of school kids from the neighboring public elementary school. All the children who attend this school, aged 7 through 12, divided into several groups by age, enjoyed a wide variety of educational activities.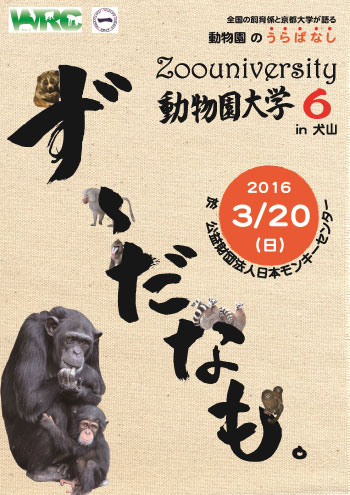 Zoouniversity 6
Zoo-danamo
Mar. 24 Updated: many thanks to all who supported and attended at Zoouniversity 6, and HERE's the photo report. Please check it out.
---
The Japan Monkey Centre (JMC) is proud to host this year's annual meeting of the
Zoouniversity
, on Sunday, March 20
th
, 2016. JMC hopes many of you will attend.
View Photos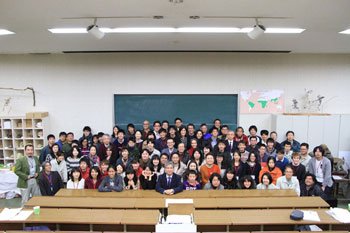 The 60th Primates Conference
Date: January 30th - 31st, 2016
Venue: Visitor Center and Seminar House Hakutei
Read More
November 18, 2015
News Article from Primates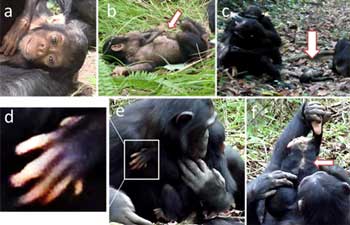 September 28 & 30, 2015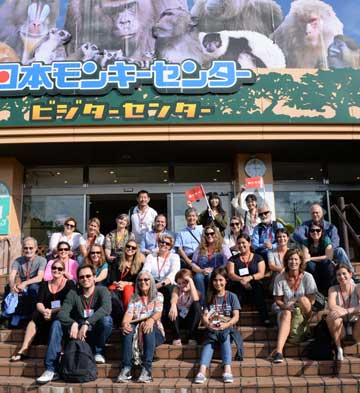 Post-Conference Tour of ABAI's Eighth International Conference
September 28, 2015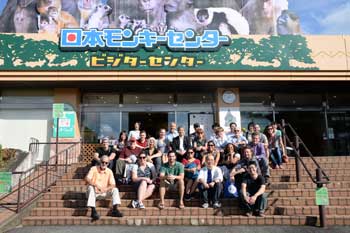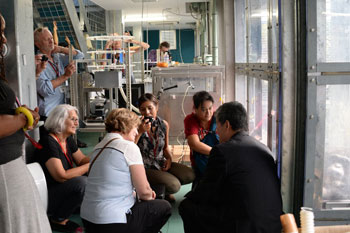 Post-Conference Tour of ABAI's Eighth International Conference
The Association for Behavior Analysis (ABAI) eighth International Conference
is being held in Kyoto, 27th-29th September this year. Before the conference, on the 26th September, twenty conference attendees took part in a full-day tour in Inuyama, visiting the Japan Monkey Centre (JMC) and the Primate Research Institute (PRI). At the JMC, they had the pleasure of seeing Japanese macaques washing sweet potatoes and watching chimpanzees ant-fishing. At PRI they observed chimpanzees carrying out a computer task at a touch-screen station positioned over ten meters above the floor of a spacious new enclosure, part of their living space.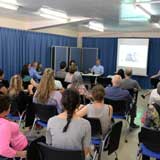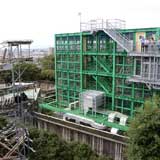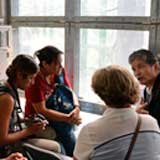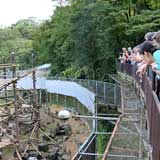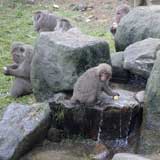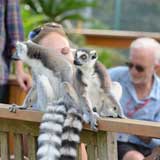 September 04, 2015
News Article from Primates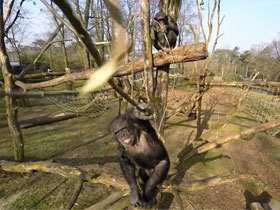 August 28, 2015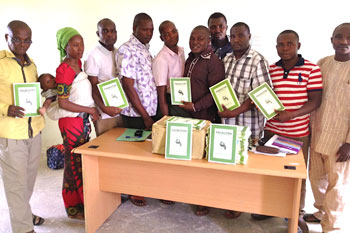 Journal Primates Assists Wildlife Conservation in Nigeria
JMC donated the journal Primates' back-issues to Taraba State University. Here is the photo that was sent to us along with their thank-you email. JMC hopes these back-issues help Wildlife Conservation in Nigeria.
Photo: Dr Umaru Buba of Taraba State University and his MSc students in Wildlife Conservation, with the Journal Primates.
August 10, 2015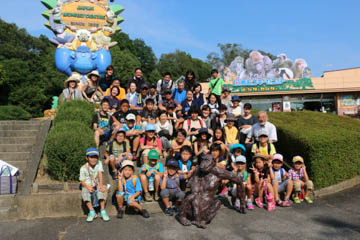 JMC President's Special Guided Tour
Families with school children visited the Japan Monkey Centre (JMC) and Primate Research Institute to learn about primatology and ecology. Professor Kazuo OIKE, the President of JMC, guided the families.
August 10, 2015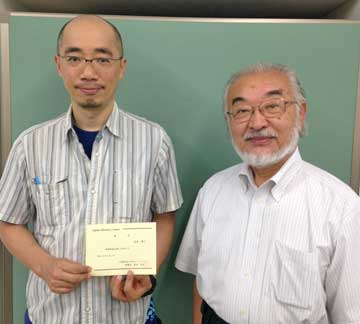 Dr. Masaki TOMONAGA of PRI, Kyoto University, was appointed to the Vice-director, Department of Education and Research, Japan Monkey Centre.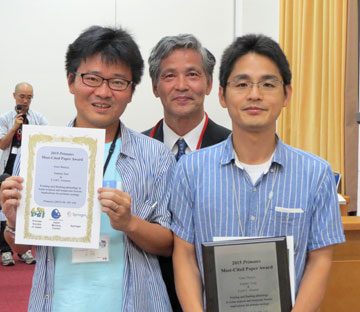 July 19, 2015
Dr Hanya Awarded Primates Most-cited Paper Award
The Primate Society of Japan, the Japan Monkey Centre (JMC), and the Springer give "Primates Most-cited Paper Award" annually to the most-cited paper in Primates that published in the two years. In 2015, "Goro Hanya, Yamato Tsuji, & Cyril C. Grueter (2013) Fruiting and flushing phenology in Asian tropical and temperate forests: implications for primate ecology. Primates, Volume 54, Issue 2, pp 101-110 doi: 10.1007/s10329-012-0341-3" was awarded. Congratulations!
June 13, 2015
US classified captive chimpanzees endangered
U.S. Fish and Wildlife Service Finalizes Rule Listing All Chimpanzees as Endangered under the Endangered Species Act Protections expanded to include captive populations.
For further info, visit here
June 01, 2015
Coalition to Save the Abandoned Chimpanzees
Chimpanzees in Liberia, Used in New York Blood Center Research, Face Uncertain Future.
Japan Monkey Centre joined this coalition that shares the story of the Liberia chimpanzees and takes action to pressure New York Blood Center. Read and Share: NYTimes.com

June 10 Updated: for further info, visit New York Blood Center: Do the Right Thing
May 07, 2015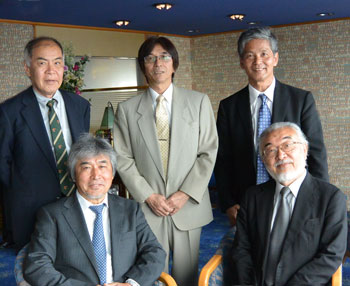 We Held a Board Meeting on May 7.
In Nagoya to 5/7 (Thursday), we held a meeting of the board of directors of the Japan Monkey Centre. The photograph shows all the directors, of the Japan Monkey Centre, in the lounge.
Photo: Clockwise from top left: Professors Toshikazu HASEGAWA, Gen'ichi IDANI (Zoo Director), Tetsuro MATSUAWA (General Director), Kazuo OIKE (President), and Juichi YAMAGIWA (Museum Director).
March 01, 2015
Claudia Sousa Memorial Fund for the Advancement of Portuguese Primatology
Apr 20. UPDATE: We are happy to announce that the successful 2015 applicant for the 'Claudia Sousa Memorial Fund for the Advancement of Portuguese Primatology' is Raquel Costa.

The objective of this fund, established by the Bossou and Nimba Research team, is to continue Claudia Sousa's vision to encourage and inspire Primatological study by Portuguese students. One applicant per year will be selected. Applications are invited from Undergraduate, Masters and PhD students of Portuguese nationality who have been inspired by Claudia and her work and wish to pursue a career in Primatology.
For further infomation, visit http://langint.pri.kyoto-u.ac.jp/ai/en/claudia/
The 59th Primates Conference
The Announcement of the Award Winners of the 59th PRIMATES Conference
The 59th annual conference was held in JMC in Janauary 31st and February 1st in 2015. There were 108 participants in total. There were 64 presentations (30 orals and 34 posters), We are pleased to announce the award winners as follows:
The Best Oral Presentation Grand Prize
Keiko Tsubokawa
The Best Poster Presentation Grand Prize
Hikaru Wakamori
The Best Oral Presentation Award
Takashi Hayakawa , Momoe Hirokawa, Lira Yu
The Best Poster Presentation Award
Satomi Ito, Akemi Hirakuri, Naoto Kimura
Read More